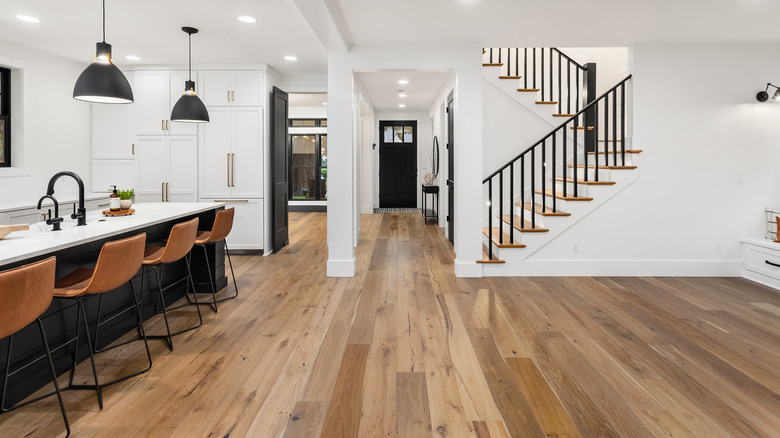 Hardwood floors are a popular floor type that most homeowners would pick over others. It provides pretty easy-to-clean surfaces, so these woods are favored over carpets. Well, it's not unusual to notice dents and scratches on them after some time. When this occurs, you'll simply have to refinish your hardwood floor. So, here are a few tips, courtesy of hardwood floor refinishing Denver professionals. 
Fix Any Major Damages Beforehand
Before you even sand your hardwood floors, you will have to inspect them for breaks and damages. Unfortunately, there's always a high probability of an unnoticed crack that gets worse by the day. However, if there is significant damage, you need a wood filler. This wood filler patches small holes, significant scratches, and cracks on your hardwood floor.
Although you cannot perfect every inch of your floor, you should ensure to fix any dents that would likely cause problems. So, you can allow slight irregularities but only begin to sand when you've achieved a smooth hardwood surface.
Pick An Appropriate Sanding Equipment
From experience, random orbital sanders are an exceptional pick when you're looking to refinish your hardwood floor. They pose lesser damage to your hardwood floor when compared to drum sanders. However, removing old finishes with these random orbital sanders will take you longer. 
In addition, the random orbital sander provides you with great flexibility. So, you can move it with the grain or against the grain without risking any damage. Also, keeping the sander level even through this activity produces a better effect.
On the other hand, you'll always have to prepare your house afterward. Before refinishing, cleaning the area, cleaning the sanded floor, and securing the floorboards are essential.
Always Label Your Molding
You would love to touch every floor part when refinishing your hardwood floor. So, you would now have to remove the baseboards or shoe molding. But this depends on the finishing of your house.
So, for you to successfully refinish your floor without complications, you should always label the extracted molding and the wall. This helps quickly match these parts and spots when you're reassembling everything. So, you would prevent yourself from placing wood slabs where they don't belong. 
This is just a way of making the entire process of refinishing your hardwood floor more stress-free.
Apply Two Coats of Finish
You'd want to refinish your hardwood floor as soon as possible. However, you still have to make it as beautiful as possible. In addition, you'll still have to wait for the stains, paint, and glue to dry afterward.
So, as regards finishing, it is always good practice to apply two coats of finish for the most excellent results. However, you'll need some time because you'll have to let the first coat dry before applying the second. And it usually takes about eight hours for a coat of finish to dry.
Final Thoughts
Refinishing your hardwood floor is an unavoidable activity. Although it takes a lot of time and effort, it is always worth it. Also, it isn't something you have to do each year, so it's best to settle down and complete it with care.